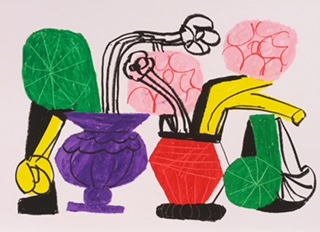 "Vase & Plant", 2018, oil pastel on paper, 19.75 x 27.5 inches
Text by
Wendy Heldmann and Christopher Michlig
OHP Office Hours Projects
Oregon
Reminiscent forms
Figurative flowery fists
An allusion to the third dimension
Lines in contour and color
Full flat vessels
Some skeleton shadows
Attached without touching
Trimmed edges disconnect
A lived-in still life
From left to right Maria Lundström's Vases & Plants reads as maybe a recognizably drooping snowdrop flower, but yellow. The small, usually white, six-petal flower commonly blooms by mid-March in Sweden and is considered by many to be one of the first signs of spring. Behind this is perhaps a tall black boot with a large green bloom or bud resting on top, though it may just as well be attached to the thick green stalk emerging from an adjacent purple vase.
The rotund purple vase, like the drooping yellow flower, is minimally detailed with black drawn lines that are symmetrical and dramatically curvaceous in knobs and turns. Shooting from the center of the purple vase and arching to the right landing midway atop of the composition is a flower that resembles the yellow one, but this specimen is drawn only in black with its blossom and stalk transparent and its arch decidedly not drooping.
Neatly under this arching element is one of two very large light-pink flowers with petals briskly scrawled in red that are tulip-like, peony-like, Queen of Sweden Rose-like, but not quite any of those. The stalk or stem of the left flower head is obscured by another small leaping flower in black outlines. To the right are two eccentric, yellow, thick, bending forms like bananas, conjoined at their base with the second light-pink flower above them. This entire group emerges from another distinctly different vase, this one red with black flanged top and bottom, its middle circumference etched, an outermost edge.
Finally, to the right of all of this is another green blossom or variegated leaf, bent at the middle and folded over, otherwise mirroring the yellow flower on the left, with its skeleton shadow or contour echo just behind it.
The composition is centered and invisibly supported.
Fixed or floating
Despite the overall heaviness
Weighed down by living
Although lifted up by growing
Solid fullness holding tubular shoots
Some broken some toppled
Hollow and loadbearing
Not dead still life
An intentional ecosystem of imagined objects and an intuitive approach to color and composition that comes from palpable formal fluency, Maria Lundström's paintings are deft, iterative, and progressive in their trajectory. Nearly each work reinforces a motif, detail, or formal concern introduced in or carried over from a preceding piece and as well incorporates something new with the effect of continually reestablishing the expanding edges of her practice, delineating Lundström's energy as sprawling and open.
Revered for his ascetic habits and trepidatious commitment to still-life, Georgio Morandi's practice is often characterized by a restless exertion of rendering, rearranging, and rendering again. He invented textures and projected nobility onto the bottles and jugs he painted, which were also sometimes filled with paint, typically arranged in the middle ground and centered, occasionally creeping furtively toward the edge. Enigmatic and austere, Morandi's approach was neither traditional nor concerned with innovations of modernity as his interest in painting was mostly metaphysical.
In 1983 architect Frank Gehry was commissioned to design the now notorious Winton Guest House. The project, an overt building-scale homage to a still life painting by Georgio Morandi, was completed in 1987 on an idyllic site in Wayzata, Minnesota near Lake Minnetoka. An ambitious relocation of the Winton Guest House to a conference center property in Owatonna, Minnesota lasted from 2008-2011. The guest house was sold at auction in Chicago in 2014 and is allegedly being relocated to its new home in New York's Hudson River Valley. The guest house is more guest than house with its ironic serial relocation sans rearrangement and the potentiality of something as simple as a painting subjected to the concrete conditions of the architects' plan. Morandi may have painted the same arrangement twice or three times, but he never painted it the same way.
Town and country inversion
Housing nature in vessels
Placing outside inside
Sparingly but precisely
Providing solace from the everyday
Romantic rural longing
Flowers from a friend or for the self
Very much extant still life
In Lydia Davis' story "We Miss You: A Study of Get-Well Letters from a Class of Fourth-Graders" the reader is presented with a homeroom student body quantity of sample get-well letters that the author systematically presents, analyzes, and reverse engineers in the interest, seemingly, of understanding something about the personalities, dynamics, and context in which the students live and go to school. The story is noticeably longer than other works of micro-fiction by Davis and at a certain point, this important difference brings into question whether or not the author has made it all up. It is as clearly a work of fiction as it is earnest nonfiction, or ethnography even, and nonetheless and all the more the deluge of minute detail is vivid, making it feel "real" in its own right. The systematic, analytic structure is a convenient framework that introduces an entire constellation of characters, personalities, and anecdotes and eventually, a somewhat complete mise-en-scène arises. In turn, it is the voice of the author to which we should be paying attention.
Creating mythologies through gestural repetition
Exercises in meditation
Iterative of Ikebana
Assessing the line and form total
Designer of both vases and plants
Nature and product
Arranging from imagining
Abstracted still life
Exhibition at Art + Design University Oregon
April 2 – 29 2018
.